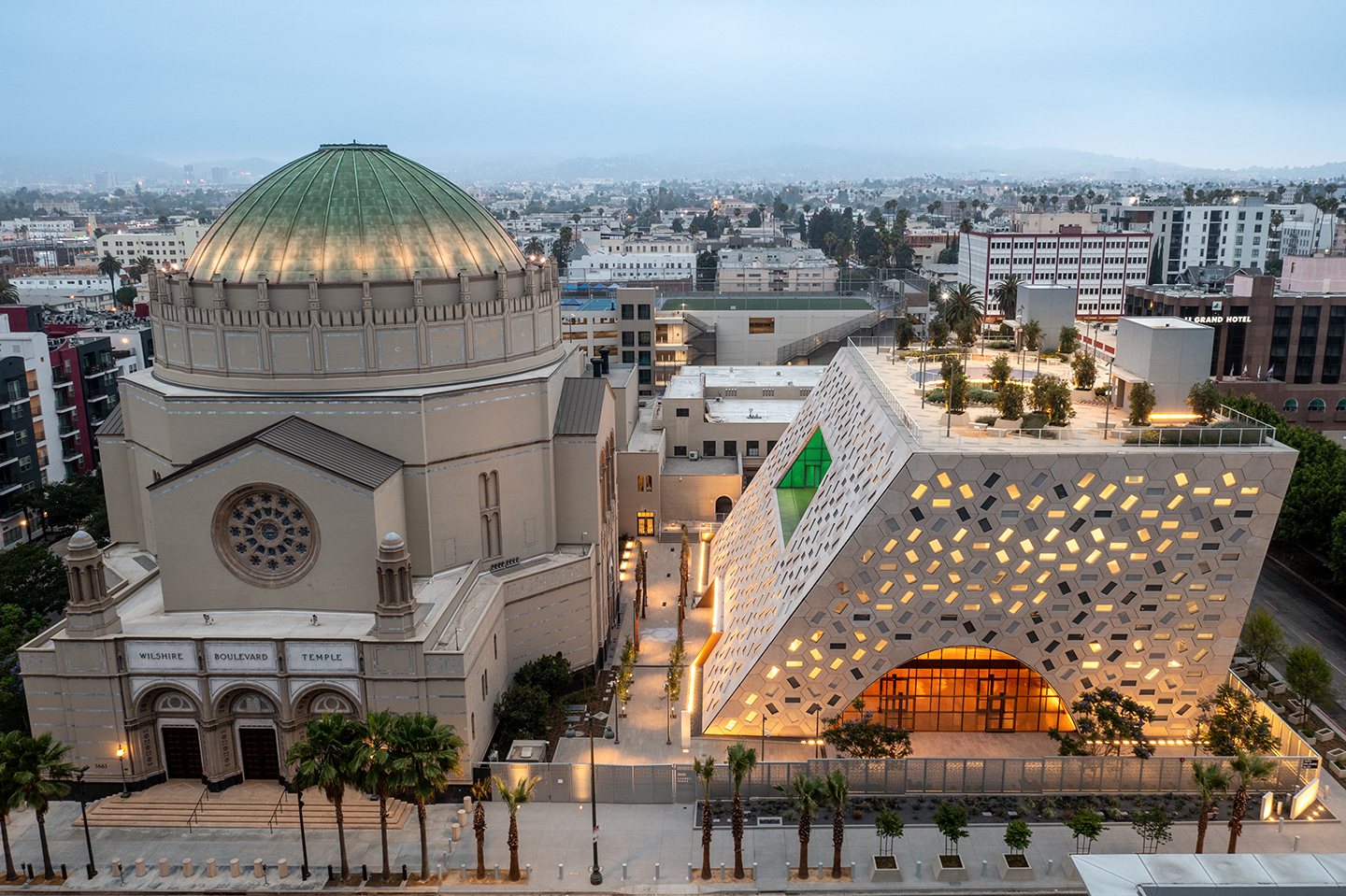 ABOUT AUDREY IRMAS PAVILION
Named Audrey Irmas Pavilion for its lead donor, the new building will be entirely privately funded. Audrey Irmas, philanthropist, art collector, native Angeleno, and long-time congregant of Wilshire Boulevard Temple, kicked-off the fundraising campaign with the lead gift of $30 million, which was generated through the high-profile sale at Sotheby's of her Cy Twombly painting, Untitled [New York City], 1968, a seminal example of the artist's celebrated series of 'Blackboard' paintings. The painting was auctioned off on November 11, 2015 fetching $70.5 million, $30 million of which was donated to Wilshire Boulevard Temple. The gift is among the largest single donations to a synagogue in the United States.
ABOUT WILSHIRE BOULEVARD TEMPLE
One of the country's most highly respected and influential congregations, Wilshire Boulevard Temple has been responding to the needs of the Los Angeles Jewish community since its founding in 1862 as Congregation B'nai B'rith. Today, Wilshire Boulevard Temple's members are deeply involved in the civic life of Los Angeles. In addition to its Erika Glazer Family Campus in Koreatown, the Temple has a campus in West Los Angeles with schools and a variety of community programs, and its Camps and Conference Center in Malibu, CA, where it runs a summer program for more than 900 children. Both the Koreatown and West Los Angeles campuses have early childhood centers, elementary schools, religious schools, inspiring worship, social justice and cultural programming for adults. The residential camps and conference center in Malibu are utilized by a variety of schools, organizations, and community programs throughout the year.
ABOUT OMA / OMA NEW YORK
OMA is a leading international partnership practicing architecture, urbanism and cultural analysis. OMA was founded by Rem Koolhaas and maintains offices in Rotterdam, New York, Beijing, Hong Kong, Doha, and Brisbane. Established in 2001, OMA New York has overseen the completion of the Seattle Central Library, the IIT Campus Center, the Prada New York Epicenter and Milstein Hall at Cornell University. Shohei Shigematsu is a Partner at OMA and has led the firm's diverse portfolio in the Americas over the last decade. His engagements in cultural venues include an extension to the National Art Museum of Quebec; the Faena Forum, a multi-purpose venue in Miami Beach; an extension to the Albright Knox Gallery in Buffalo, New York and the extension to the New Museum in New York City. Sho also designed exhibitions for Prada, the Venice Architecture Biennale, the Metropolitan Museum of Art and the Park Avenue Armory. For more information, please visit www.oma.com or find us on social media – Facebook (OMAAMO) and Instagram (@OMANewYork). For press inquiries, please contact schoi@oma.com.